Second Chance Education & Development Programs
Are you a survivor looking for a new career path?
S.C.A.R.S. is partnering with Grow With Google to provide full scholarships to eligible women survivors of domestic violence in Central Virginia. Economic self-sufficiency can be a major barrier for survivors to thrive. We are creating pathways for recovery, by equipping survivors with transferable skills, and preparing them for careers in high-paying jobs in the fast-growing fields of data analytics, digital marketing & e-commerce, project management and IT support.
In addition, you receive support and practical tips for resumes, interviews, and job searches, helping you to land a position in the technology sector.
Second Chance Grow With Google Career Training Program is open to any female survivor of domestic/intimate partner violence, 18 years or older, residing in Central Virginia.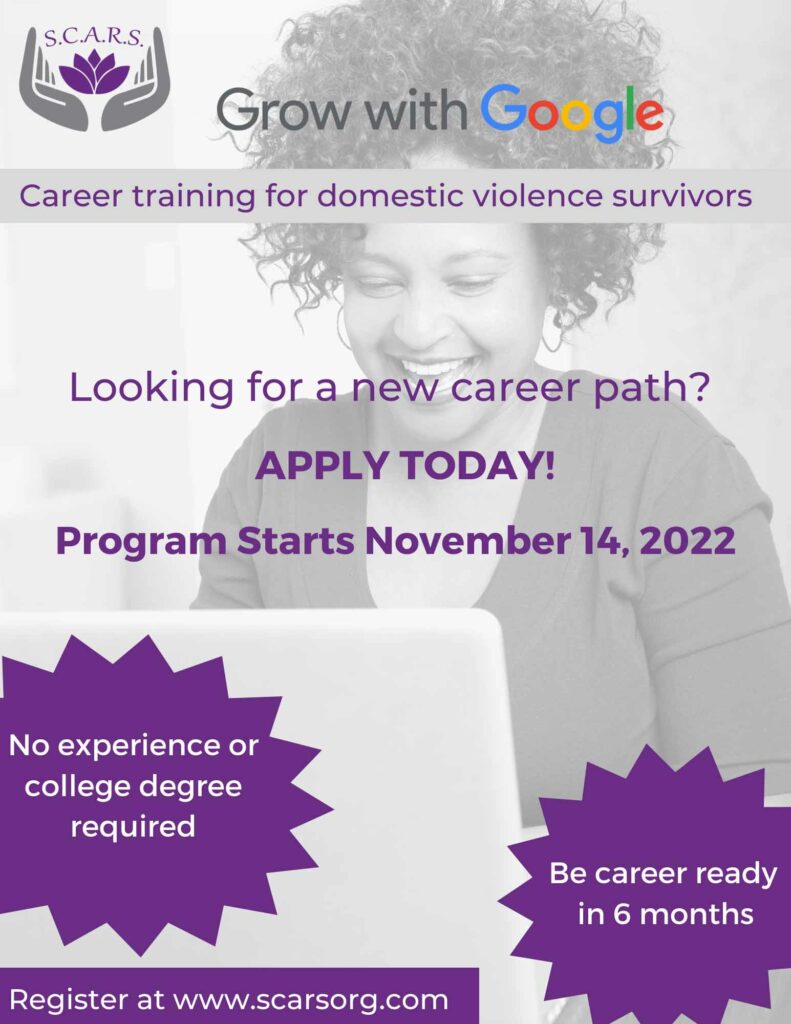 Data analysts collect, transform, and organize data in order to help make informed business decisions.
If you like: uncovering trends and patterns, visualizations
Digital Marketing & E-commerce
Digital marketers use online tools to reach customers. E-commerce specialists grow online sales.
If you like: connecting with people online, building an online presence
Specialists troubleshoot problems so computers and networks run correctly.
If you like: solving problems, helping others
Project managers ensure projects within an organization are managed and completed with maximum value.
If you like: solving problems, organization, working with people
REGISTER TODAY – PROGRAM STARTS NOVEMBER 14, 2022
Google Career Certificates will help you prepare for in-demand jobs through online job training, without the need for a college degree or experience. You'll get professional training developed and taught by Google, along with the opportunity to connect with top employers that are currently hiring. Learn at your own pace and earn a professional certificate in 3 -6 months. 
* Completion of the Second Chance Prep Academy, consisting of 9 web-based courses, is required prior to beginning Google Career Certificate coursework.
Click Below for more information of Google Career Certificates